No, Jason and I are not fighting, but we have been really busy in the house. Over a year ago, our dog Levi locked himself in our guest room/office. And then tried to dig himself out. Needless to say, the carpet was ruined, and we had to rip up the rest. For a year now, we have had nothing on the floor except concrete, and an area rug. We have also had a desk that was entirely too big for that room.
Well, we finally got carpet! Woo-Hoo! While we had the desk moved out to install the carpet, we decided to see what the desk looked like in the front room. It looks great by the way! So, we moved some furniture around, and I officially have a guest room. I keep calling it my room, because I can decorate it any way I want. I can finally hang up some girly paintings that my grandmother painted, that I have had no where to display them.
And if you think this news is exciting, just wait...
We did all of this on Thurs and Fri. When I came home from work on Saturday, Jason had a surprise for me. He built me a scrapbook station in the closet of my new room!
Yes, he is the most amazing husband in the entire world!
So, I am officially organized. I know, this is really hard to believe, but it is true! I am posting pictures of the final reveal.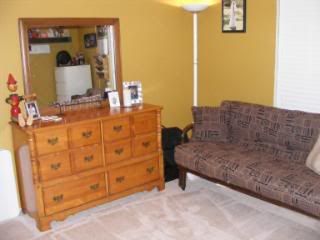 The bedroom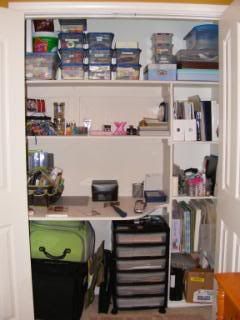 My wonderful space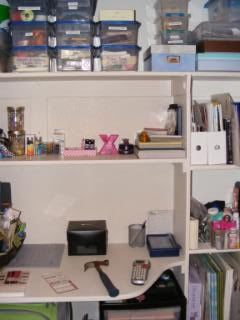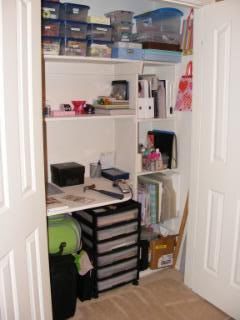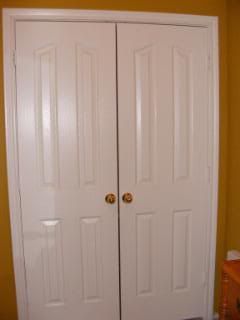 The best part of my wonderful space!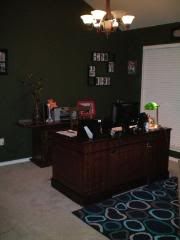 Our new office
I am so excited, and I am pretty sure that my OCD friends are pretty proud of me right now! I am organized to the hilt!