I am trying not to cry while typing this post, but my first born is six! Where did the time go? I always wanted to be a mother, I couldn't wait to have babies. But, I had no idea how much being a parent requires! I am not griping mind you, but I just had no idea! I do know however, that I am very grateful for the time that God has blessed me with children.
March 19, 2003 seems like yesterday. It really does! If I close my eyes I can vividly see everything that happened at the hospital (good and bad). I remember holding Dalton for the first time, and just smiling and crying every time I would look at him because God had blessed me with such a beautiful, healthy baby. I remember being alone in my room, because Jason was in the ER (that's a whole 'nother story). My friend Chassina being one of the first to see him, and we were both crying. I think neither one of us could believe that I had a baby! After that Jennifer was there, not quite sure how to hold him. Man how life and kids has changed us! For the better of course!
This week has pretty much been the week of Dalton. When school lets out for your birthday, you pretty much get to celebrate everyday! Monday Papa (Jason's dad) came in from Iowa. That night we had a family dinner/celebration. Dalton got to pick the menu, so we had hot dogs, cheese puffs, and blueberry cobbler! Tuesday we went to The Maverick's game with friends. We let Dalton pick this year between having a party, or inviting a friend to a basketball game. Obviously, he chose the game! We had a great time, we even rode the train there-which the kids had an absolute blast! We had dinner in the West End at TGIFriday's, and they sang Happy Birthday to him, which he thought was the coolest thing in the whole world! At the game, we were literally at the very top of the stadium. Wednesday we spent the afternoon out riding dirt bikes and four wheelers. Which by the way, Dalton has only been on the dirt bike a total of two days and is already riding like a pro. He and Jason have decided that he will be starting the racing circuit when he turns 7. (please pray with me for God's protection over my baby). After that, we went to Babe's for dinner. Yummy! And today we will be going to Dinosaur World in Glenn Rose.
Busy, busy week! But, Papa has already agreed to watch the boys on Friday night, so that we can have a date night! Yay Papa!
Below are some pictures of the week. Enjoy!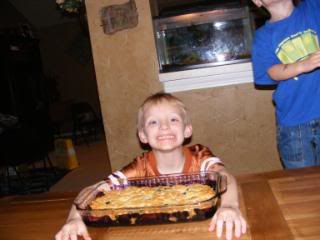 The blueberry cobbler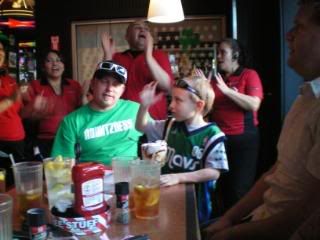 Singing Happy Birthday at TGIFriday's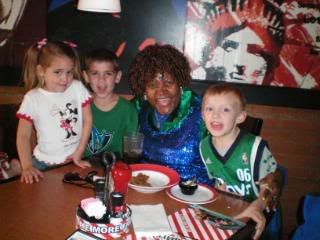 Hanging out with another Mav's Fan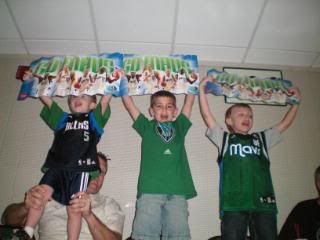 At the Game
It Doesn't Get Any Higher Than This!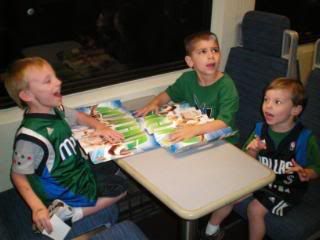 The Train Ride Home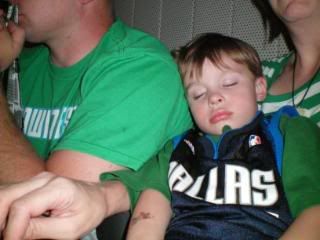 Carson taking a nap at the game!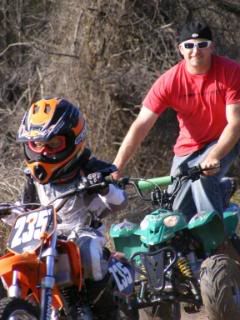 Dirtbiking It!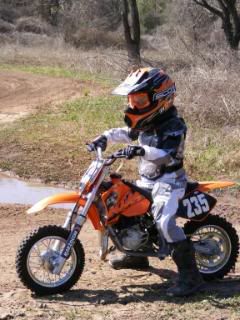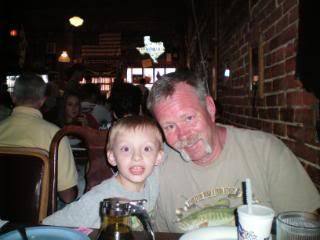 With Papa at Babe's