Thursday night, I spent about an hour circling things in the Wal-Mart ad, and making a list of exactly what I needed. Woo-Hoo! I love Black Friday deals!
So, Fri 4 am I get up, make coffee, started the car, got ready and headed to the local Wal-Mart at 4:40am. (The doors open at 5) I am standing outside in 25 degree weather (Brrrrrr!) Oh well, it is totally worth it to save a few bucks right?
By 6:15 I had
everything
I needed, and was back home in bed! Now that's what I call awesome! Gotta love a small town!
Oh, and did I mention that I now have
almost all
Christmas presents purchased? And I only spent $150 at Wal-Mart! Talk about savings! (I am pretty sure that is definitely being a good steward of money)
So next on our Black Friday to do list, was to head to Red Oak to Papa's house and on to Omaha, Nebraska for a little shopping at Scheel's (a really cool store with an indoor ferris wheel!) And a few doors down from Scheel's, is in my opinion-one of
the best stores
in the
entire
world...
Archiver's
! This is a super-duper-awesomely-cool scrapbook store! (Think Recollections on steroids girls!)
So this year, I got smart and had the guys drop me off there first, so I could go in
all by myself!
When I had been fully idea refreshed, I walked over to Scheels to meet up with my guys! They had already rode the ferris wheel, and I found them in the guns section (ofcourse!) There are several video simulated shooting games, along with a virtual sports game system (which Jason seems to think would be great in our front room) (It would take up the entire front room-by the way!)
They also have some really cool home furnishings there-so I shopped a little too! And then, over to The Denver Broncos section, and this is where we left our money! But, I finally got me a women's Denver shirt to support my hubby's team!
And on to The Amazing Pizza Machine! Not to be confused with Incredible Pizza, but is almost exactly the same! Well, 3.5 hours there-what a blast! Go-Karts, Bumper Cars, (my personal fave), ski-ball, helicopter rides, roller coasters! Man it was super! And, then home to Grandma's house!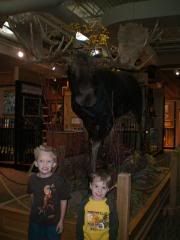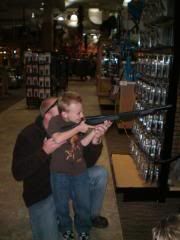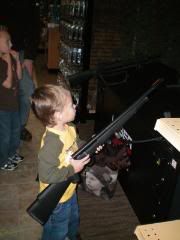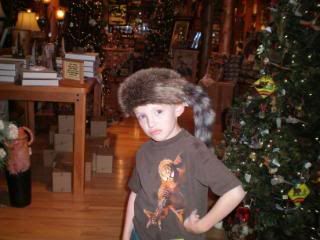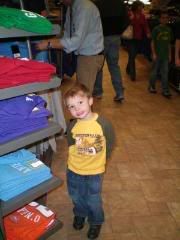 I may look cute, but what I am really doing is hiding candy that I am eating behind my back while smiling for the camera!