Ok, so thanks to my friend
Tabitha
for being the reason we got
The Elf on The Shelf
. She was going to pick up one for her, so we made a day of it and I had her get me one too.
Well, one of Santa's helpers dropped the elf at our front door Monday night. (Helper-meaning me running out through the garage, to the front of the house, ringing the doorbell, and running really, really fast back into the house.) Kids opened door and discovered box. We then read the book as a family, and explained all the rules of the elf, oh by the way they named him Elf E. (pronounced Elfie) very original and creative huh?
So when they were going to bed last night, Carson kept saying "Elf fly away Mommy? Elf fly away? Elf fly to Santa?" Yes Carson the elf is going to fly home to the north pole tonight and will come back in the morning. "Oh, Ok Mommy-goodnight. Elf fly away." Dalton knew that he couldn't look for him until he was dressed fully for school, and his bed was made (his alarm goes off at 6:30). So at 6:37-every light in the house is on, and I find Dalton fully dressed looking all over the house for Elf E. I am thinking at this point, that once in a while, the elf is going to come with a list of chores to do... he he he. Shortly after that, Carson wakes up and they are both on the hunt.
They found him in about 10 minutes, with a few hints from Mom. But it is really cool to see how excited they are about it, and it helps to remind them when they are arguing or something that "The Elf is watching you..."
Here are a few pics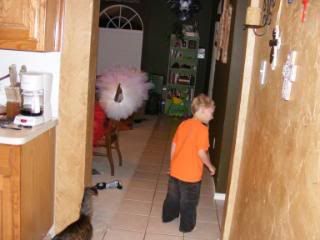 Dalton searching high and low for Elf E.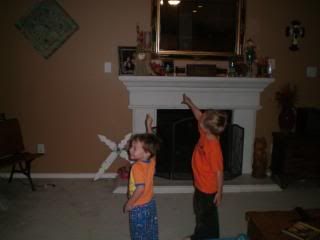 "Look Mom, there he is!"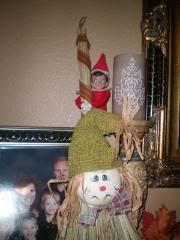 Kind of cute and mischevious all at the same time hmmmm?